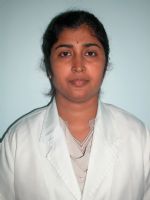 About the Presenter:


Dr.Veena Kannusamy, after completing her post-graduation in ophthalmology has 15 years of experience in Peadiatric ophthalmology. She is the chief of Peadiatric eye care services at Aravind Eye Hospital, Pondicheery for the past 13 years. She overlooks the community programme of the Peadiatric department.
Pediatric ophthalmology team under the leadership of Dr.K.Veena have successfully screened a million school children. They have won XOVA Award 2012 for "Improving the teacher training model in India to identify ocular defects among school children". She also received USAID assistance "to build sustainable capacity and processes to effectively address the problem of visual impairment and blindness among children in the age group of 0 – 6 years in the service area of Aravind Eye Hospital at Pondicherry".
She has presented papers and also has been an invited speaker in several national and international conferences.